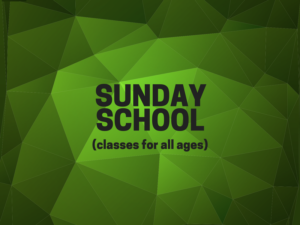 The purpose for Sunday School is for people to become Grounded in Christ through the study of God's Word together.
Sunday School is a great first step out of the Sunday morning worship service and into deeper fellowship within the Body. It allows you to move out of rows and into circles for greater interaction with each other in going deeper into the study and understanding of God's Word. The goal of our Sunday School teachers is to not only teach the Word, but to model the appropriate
For adults, Westwood operates on a quarter system throughout the year. For our 1st Quarter of 2020 (January – March), we will be offering four elective classes from which every adult may choose to attend:
Unstuck, based on the book by Tim Lane
Led by: Brinn Clayton
Location: Room #112
Description:
Is there an area in your life that you want to change, but you don't know how? Is there a behavior that you've tried to stop, but you just can't seem to do it? Is there a negative thought pattern that you have attempted to move on from, but nothing you try ever works?Is there a relationship that you want to repair, but despite all your best intentions, nothing seems to make things better? In other words, do you want to change, but feel stuck? Tim Lane takes you on a nine step journey towards lasting change. This practical and biblical guidance recognizes that the path to lasting change can only be found by growing in grace as we look to Christ and are empowered by the Holy Spirit.
God's Big Picture, based on the book by Vaughn Roberts
Led by: Gary Bittner
Location: Room #132
Description:
Sixty-six books written by forty people over nearly 2,000 years, in two languages and several different genres. A worldwide bestseller published in countless sizes and bindings, translations and languages. Sworn by in court, fought over by religious people, quoted in arguments. The Bible is clearly no ordinary boo
k. How can you begin to read and understand it as a whole? In this excellent overview, Vaughan Roberts gives you the big picture–showing how the different parts of the Bible fit together under the theme of the kingdom of God. He provides both the encouragement and the tools to help you read the Bible with confidence and understanding. And he points you to the Bible's supreme subject, Jesus Christ, and the salvation God offers through him.
Visionary Parenting, based on the book by Rob Rienow
Led by: Jonathan Taylor
Location: Room #137
Description:
Participants will capture a fresh, God-sized vision for their family. It begins with understanding God's purpose for the family and taking an honest look at the current state of the home. The author shares foundational truth that God created the family to ensure that the next generation grow
s up to know, love, and serve Him. He reminds readers of the instructions from God given to parents in Deuteronomy 6:5-7 that will transform your home.
Scripture Phrasing
Led by: Jason Engle
Location: Room #201
Description:The Biblearc Phrasing course will teach participants how to wrap their minds around a passage of Scripture by going through the Five Passes of Phrasing. This includes dividing up the text of Scripture into its smallest grammatical units, indenting those units and drawing arrows between them to show relationships, labelling those relationships, and applying the main points of the passage to their lives.
This close and detailed grammatical study will lead to an accurate understanding of the author's original intent in a passage, which we pray will culminate in joyful treasuring of and heartfelt obedience to Jesus Christ.
For children, our kids are all working chronologically through the Scriptures together. They are using a material called The Gospel Story Curriculum. You can read more about this curriculum here.
For our students (grades 7 through 12), Westwood uses the Gospel Project Chronological study, provided by Lifeway. You can read more about this curriculum here.
Other Get Connected Links: