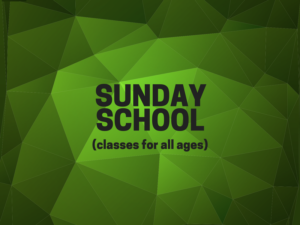 The purpose for Sunday School is for people to become Grounded in Christ through the study of God's Word together.
Sunday School is a great first step out of the Sunday morning worship service and into deeper fellowship within the Body. It allows you to move out of rows and into circles for greater interaction with each other in going deeper into the study and understanding of God's Word. The goal of our Sunday School teachers is to not only teach the Word, but to model the appropriate
For adults, Westwood operates on a quarter system throughout the year. The schedule for 2018 is as follows:
Classes will study through various books of the Bible, verse-by-verse. The goal for this is that our teachers would not only teach through the Scripture, but also model proper Bible study techniques.
Elective Studies
Westwood will offer three elective classes from which all members may choose. These classes will begin April 8 and include:
(Gospel Centered Marriage, by Tim Chester)
Growing in Meaningful Membership
(Six Steps to Loving Your Church + Six Steps to Encouragement)
Introduction to Biblical Theology
Teachers are free to select a study for their particular classes.
Stewardship & Missions Studies
The focus will be on stewardship in our classes during the month of October. All classes will work through a study provided by the elders and church leadership. Then, in November and December, classes will use various materials in focusing on global missions together.
For children, our kids are all working chronologically through the Scriptures together. They are using a material called The Gospel Story Curriculum. You can read more about this curriculum here.
For our students (grades 7 through 12), Westwood uses the Gospel Project Chronological study, provided by Lifeway. You can read more about this curriculum here.
Other Get Connected Links: